Wonder Man Costume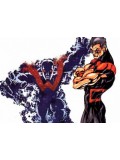 ---
Showing 1 to 1 of 1 (1 Pages)
Wonder Man is a fictional character, a superhero (originally a supervillain) who appears in comic books published by Marvel Comics.
Simon Williams gained his superhuman powers due to chemical and radiation treatments with "ionic" energy by Baron Zemo, giving him superhuman strength, speed, stamina, durability, agility, and reflexes.
Our Wonder Man Costume is very cool.suitable for boys,guys and men as the party costume.
---