Speedy costume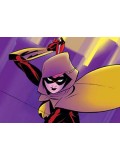 ---
Showing 1 to 1 of 1 (1 Pages)
Speedy is the name of two DC Comics superheroes, fictional characters that have each served as teenaged sidekicks for the Green Arrow
Speedy (like his/her mentor) has a wide variety of trick arrows. Most famously his punching glove arrow which is capable of knocking out villains. Speedy also has several other arrows ranging from sleeping gas arrows, exploding arrows, and regular arrows.
Along with his excellent archery skills, Speedy has mastered several different types of hand to hand combat including judo, kickboxing, and karate.
As Arsenal, Roy Harper displayed proficiency with a greater range of weapons, such as guns, truncheons, and boomerangs. He also became a master of Moo Gi Gong, allowing him to use virtually any handheld object as a makeshift weapon.
Our Speedy Superhero Costumes is tight,elastic ,cool and very comfortable.it's suitable for you as a party show costume
---