Caitlin Fairchild Costume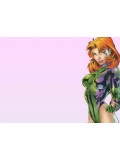 ---
Showing 1 to 1 of 1 (1 Pages)
Caitlin Fairchild is a fictional comic book superhero, who appears in the Wildstorm series Gen.
Fairchild is the daughter of Alex Fairchild of Team 7. The identity of her mother is unknown and Caitlin has never mentioned her.
When he was forced to go underground to escape International Operations, Alex Fairchild left Caitlin in the care of relatives in Portland, Oregon. Raised by her aunt and uncle alongside her cousin Karen, Caitlin grew into a brilliant, but rather mousy young woman. Her academic skill led to her being accepted to Princeton University where she double-majored in computer science and electrical engineering.
We provide the Caitlin Fairchild Superhero Costume,tight ,elastic,sexy and very comfortable.it's very suitable for girls and women.
---