Animal man costume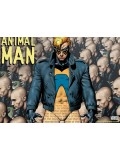 ---
Showing 1 to 1 of 1 (1 Pages)
Animal Man (Bernhard "Buddy" Baker) is a fictional character, a superhero in the DC Comics Universe.
As a result of being in proximity to an exploding extraterrestrial spaceship, Buddy Baker acquires the ability to temporarily "borrow" the abilities of animals (such as a bird's flight or the proportionate strength of an ant).
Using these powers, Baker fights crime as the costumed superhero Animal Man.
we provide cool Superhero Animal Man Costume ,tight and elastic,very comfortable. it is suitable for guys
---