Adam Strange costume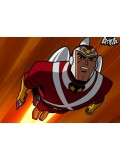 ---
Showing 1 to 1 of 1 (1 Pages)
Adam Strange is a fictional superhero published by DC Comics.
Adam Strange was once a mere Human archaeologist, one day while working on a dig in Caramanga, South America, Adam was transported to the planet of Rann via the Zeta-Beam. Their leader Sardath had invented the Zeta Beam, which could teleport matter over light years of distance. He immediately befriended the Rannians and took up a flight pack and raygun to assist them. While there, he also fell in love with a Sardath's daughter named Alanna.
On Earth, Adam Strange possesses the strength level of a man his age, size and weight who engages in moderate, regular exercise. On Rann, the planet's gravity enhances Adam's strength level enabling him to demonstrate feats of strength greater than what he would be capable of back on Earth.
---