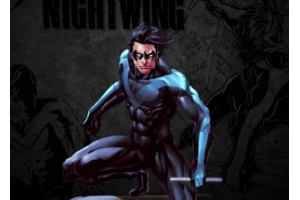 Showing 1 to 14 of 14 (1 Pages)
Nightwing is a name that has been used by several fictional characters in the DC Comics Universe. It was conceived as a Kryptonian analogue to the character of Batman, with Nightwing's frequent partner Flamebird based on Robin. The Nightwing persona originates with a Kryptonian vigilante taking the name of the "nightwing", a bird native to the planet Krypton.
Dick Grayson became Nightwing after he was dismissed from the role of Robin at eighteen. Grayson's Flamebird was Bette Kane. He was featured in a Nightwing series from 1996 to 2009; after Wayne's apparent death, Grayson became the new Batman, subsequently retiring his Nightwing mantle temporarily.
We provide some styles of Dick Grayson style Nightwing Costume,tight,elastic,cool and comfortable.suitable for guys and men