By Bianca Romero 2017-01-04 01:36:09

I bought this suit for myself but I had my niece wear it for some pictures I LOVED the suit It fit perfectly The one thing I regret not ordering with this suit is the attached shoes because the suit would look better not having to wear black shoes ontop of it I've also bought the D.VA suit from here as well. It's such high quality and for a great price.
Silk Spider morph suit Silk Cindy Moon Spider Costume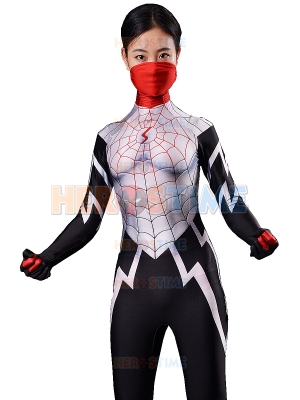 Price:

$75.00

this silk spider costume is a new costume for female. it's a good morph suit for girl who love spider-man
SHOP NOW
Reviews
(27)
By Christina 2015-07-11 13:50:46

The suit came very quickly and the website had no probably making the mask up to my nose. When I first tried it on it was a little tight, but it fit. I love how it looks and feels. It breaths well and is very comfortable. The only issue is the elastic to hold up the mask. You have to place it around your ears and mine was a little loose so my ears hurt a bit, but not too much. All in all I love the suit and highly recommend it to anyone who wants to be Cindy Moon for a day.
View more >>