Captain America Spider-Man Hybrid Superhero Costume Morph Fullbody Suit
Product Code: SC071
Availability: In Stock
This Captain Spider-Man Hybrid Superhero Costume is a new costume. it's a good morph suit for superhero fans who love Captain American and Spider-Man
this item is only a one piece morph suit, do not include the captain america shield and the spiderman lenses. but don't worry. you also can buy the
shield and lenses on our site.no hood/gloves/feet detachable. No lenses default, if you want the lenses, you can choose the "Add Eyes Lenses" custom option.
Processing time: 3-5 working days
Notice:
1.The price include the digital file cost($30), so once your make order , we will send the file cost to the designer.
2.The lenses is not include by default, the lenses are made of plastic not glasses. if you want the lenses, please choose the "Add Eyes Glass" option.
3.Now we can make the boots attached on the suit,then you can just wear the suit to outside. If you need, please choose the custom option: Add Boots with Suit or Add Detachable Boots , then we will add boots for you. also please tell us your feet length in the input box named "Add Comments About Your Order" which will be appeared when you choose shipping method.
This great style is designed by Crazy Franky . you can order more other pattern file from https://sellfy.com/CrazyFranky . we can print and sew it for you.
Thanks our friend Crazy Franky's great work!
"Original Captain Spider design created by Tloessy. All credits goes to him : http://tloessy.deviantart.com/art/Spider-Man-as-Captain-America-355641018 "
This video is from Prnze who is our Publicizing Ambassador. thanks his great work.
Size Charts for Costume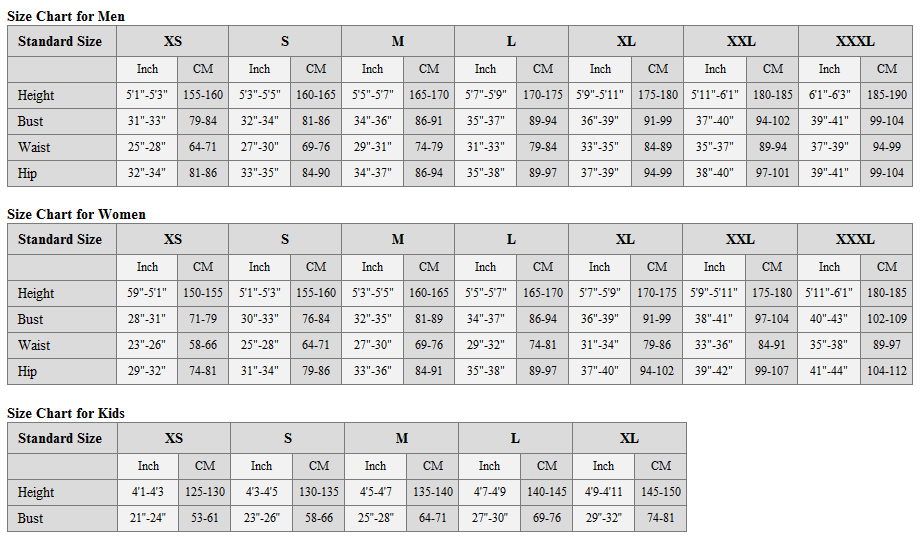 Please illuminate your detailed size requirement in the order
Size Charts for Costume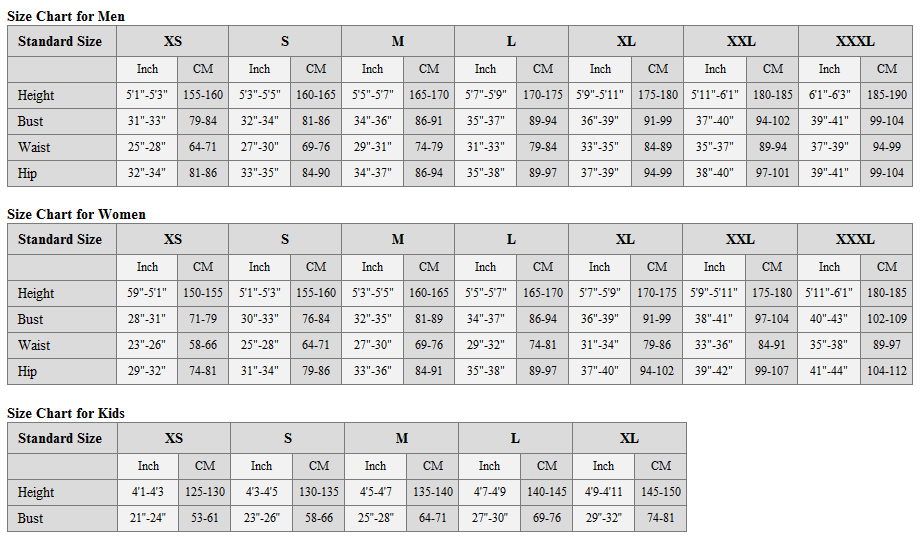 Please illuminate your detailed size requirement in the order
Shipping time is due to the country and the shipping method you choose. so different country or different shipping method, the shipping time is different. Shipping Cost is based on the country and weight of your order. This is a example for your to estimate the shipping time and cost.
| | | | | | | | | |
| --- | --- | --- | --- | --- | --- | --- | --- | --- |
| Country | USA | UK | AU | CA | FR | ES | BR | Shipping Time |
| Weight (kg) | 0.5 | 0.5 | 0.5 | 0.5 | 0.5 | 0.5 | 0.5 | |
| Standard Shipping | USD10 | USD15 | USD11 | USD10 | USD15 | USD15 | USD20 | 5-7 working days |
| Expedited Shipping | USD15 | USD20 | USD16 | USD15 | USD20 | USD20 | USD25 | 3-4 working days |
If you need any help, please feel free to contact us : service@herostime.com
Related Products
Tags: SpiderMan, spiderman, spider-man, superhero costume, captain american, aptain Spider-Man Hybrid Superhero Costume, morph suit