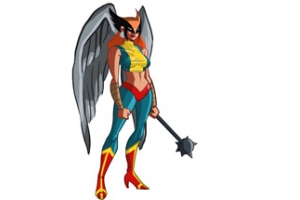 Showing 1 to 2 of 2 (1 Pages)

Hawkgirl is the name of several female fictional superhero characters, all owned by DC Comics and existing in that company's universe. The character is one of the first costumed female superheroes. All of them are partners, and sometimes spouses or lovers, of the various incarnations of Hawkman, and share many features with the character Hawkwoman. Hawkgirl was ranked 80th in Comics Buyer's Guide's "100 Sexiest Women in Comics" list.

We provide some styles of Hawkgirl Superhero Costume,tight,elastic ,very sexy and comfortable.it's suitable for girls and women.